We are 4in10 London's Child Poverty Network
---
We are a campaigning, skill and information sharing network of London organisations working to improve the lives of the 4in10 children living in poverty across the capital. We know child poverty can be tackled if we work together to keep the spotlight on the damage that poverty is doing to families in London.
We are a loose network of frontline service providers, campaigners and researchers with one shared commitment: to make a difference when and where we can by tackling inequality and poverty in our City.
We do that by amplifying the voices of the families and children you work with wherever decisions are made that affect their lives. We will not be ignored. We share via our fortnightly newsletter and through 6 weekly 'coffee mornings' where members and friends voice concerns and find solutions regarding issues linked to child poverty in London
We are a tiny team with big hearts. Our network holds over 400 organisations, but there is always room for more.
Please join us, let us share your work with others and together we can do better for London's children.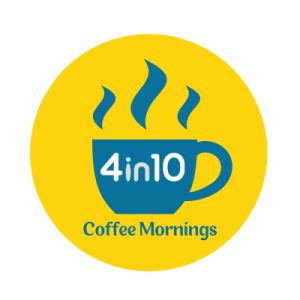 Join our 'coffee mornings', just click on the link to find out more and book. Bring ideas, concerns or just come to listen:
Poverty in Outer London – Tuesday 3rd February (10 – 11am)
Childcare in the Capital – Wednesday 16th March (10 – 11am)
An Introduction to Tracking Economic, Social and Cultural Human Rights (ICESR) – Thursday 10th March (10 – 11.30am)
Katherine Hill
Strategic Project Manager
I bring a wealth of campaigning and policy experience. I'm joining 4in10 after serving for several years as a specialist on the Joint Committee on Human Rights in parliament, and before that I have had a number of human rights policy and campaigning roles at Age UK, Scope and The Children's Society.
Liza Dresner
Community Outreach Officer
I joined 4in10 when I 'retired' after 13 years as CEO of Resources for Autism, a front line service charity. I have over 45 years of experience of the sector both as a volunteer and in a paid capacity and I bring extensive knowledge of disability, refugees, women and children, HIV and homelessness services. What links them all has been a lifelong commitment to fighting poverty and discrimination in both political and practical forums. I have been an active campaigner for the rights of the child from my school days.
Keir Lewis
Research and Learning Officer
I have joined 4in10 from the Just Finance Foundation, where I worked on their Covid Response Programme. I devised and rolled out their Covid Cash Recovery training for hundreds of voluntary organisations. I am passionate about working in the child poverty sector and bringing my extensive research, training and media skills to our membership.
4in10 is an independent campaigning organisation hosted by Children England and generously funded by Trust for London and City Bridge Foundation.
We have just three members of the team, our Strategic Project Manager who manages the team and undertakes policy and campaigning work, our Community Outreach Officer who supports our members, publishes the newsletter and manages the website and a Research and Learning Officer. Between the three of us we continue to build an active London network of organisations of any size who are working in a wide variety of ways to challenge child poverty.
We are only as strong as our membership and recognise the need to be directed by our members regarding the issues we need to focus on and to that end we have an annual consultation to identify emerging concerns and to highlight where we should keep up pressure for change. Members provide us with information to disseminate and we see value in sharing best practice and knowledge and in encouraging and enabling cooperation and learning within our sector.
Membership of 4in10 is entirely free and enables you to attend our events, as well as share information with our wide network.
Membership Form