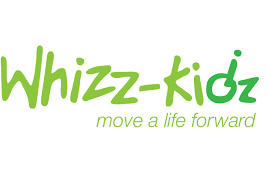 How are you helping to tackle child poverty in London?
We work to support young wheelchair users through 3 main strategies – Mobile, Enabled, Included. All of which have an impact upon the potential for poverty faced by young Londoners with a disability.
We enable young people to have a chance to have a childhood through our free clubs and programmes, aimed to break the isolation of disability, and give the young people confidence, social skills and a group of friends. At no cost to the family, these can help to tackle the mental impacts of financial deprivation. For young people who are older, we also supply free Employability skill and work placement with our network of partners to provide the launchpad for young wheelchair users to beat the employment gap, and to aid in systemic change to a less impoverished disabled generation.
Tell us something you are excited about?
Morph! Yes, Morph! This year across the summer, Whizz-Kidz has teamed up with Wild in Art and Aardman Animations to do the first step-free Art Trail within London. The trail will have 50+ 6ft high Morph sculptures painted and designed running down the Southbank from Tower Bridge then across past St Pauls and into the city. Alongside the "big" Morphs will be "gaggles" of 'Mini' Morphs, designed and painted by schools to support the trail, and of course to support Whizz-Kidz.
Pop along between June and August to see Morph having an "Epic Adventure" in London!
Share with our members something positive about your organisation's achievement or service?
It has been shown repeatedly that the right wheelchair can a big impact on a young person, both mentally and physically, allowing them to access education, recreation and employment with a greater ease and confidence. Through the Mobile strategy, Whizz-Kidz supported approx. 1,000 families through our clinical services, of which near 1/3 were from the most deprived parts of England, helping to alleviate disability related costs averaging £2,400 per piece of equipment, whilst giving a young person the same chances and childhood of non-disabled children.
What can other network members learn from you or find out more about through you?
Our work to make our young people more included starts and ends at their voice, aims and ambitions. The Kidz Board, a group of 12 young people that help to guide and steer the organisation onto topics that are concerning to them as young disabled people, has allowed us to look at the issues around poverty and financial deficit of the disabled community from all  the angles impacting their daily lives. Examples have included the non-standardised "disabled bus pass", longer journey times due to inadequate higher education accommodations, the job market, social activities, the role of assistance dogs and many more – all of which have a financial impact on young person and their family.
What would most help you achieve your goals?
Whilst of course, funding is always helpful to a charity, we are always looking to be raising awareness of the additional issues faced by Young Wheelchair Users, as quite often they go unnoticed. Partners committing to having Disability Awareness provided by people with lived experience, or work with people with lived experience to open their horizons, and break the misconceptions around disability. The young people that we work with also need people to provide them with the opportunities to succeed, whether that is in a social setting through supporting our clubs, or a employability setting supporting Work Placements and Employability Skills Sessions. 
Show these young people that they have a future just like anyone else.
Why did you join 4in10? What do you enjoy about being part of the 4in10 network?
We joined 4in10 as we have become rapidly aware of the additional effects of having a disability on the Cost of Living, and Child Poverty issues currently within the UK, and London. As an organisation that helps to support these young people, we know that we need to be connected to others fighting this issue as well. A candle is dim, but a handful can become a lighthouse, after all.
It is great to be part of a group of organisations looking to tackle this issue within London, a city often shown by its tourist-y bits and not some of the areas of great deprivation and be able to talk about the work we are doing, and ask to help from others on the topic, and campaigns we are running.
To connect with other groups who are interested in childcare and child poverty. So far its been really useful, thank you!